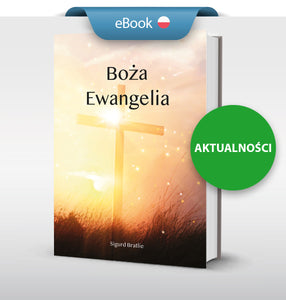 Boza Ewangelia - e-book
Sale price

kr 100,00

Regular price
Sigurd Bratlie pisze w przedmowie książki:
Chciałem przedstawić proces okropnego zwiedzenia, którym duch antychrysta zdołał oszukać wiele milionów ludzi wzywających Boga. Duch ten wypaczył pojęcie posłuszeństwa wiary, a z nim całą ewangelię.
Duch antychrysta sfałszował również łaskę, przez co większość ludzi myśli, że są dziećmi Bożymi, nie będąc nimi. Aby ujawnić to zwiedzenie, uwydatniając jednocześnie prawdziwą łaskę i ewangelię, podzieliłem tematykę na rozdziały. Tym samym każdy rozdział możesz czytać odrębnie i pojąć zwiedzenie właśnie w tej kwestii, która cię interesuje. Zwiedzenie to wywarło swój wpływ na wszystkie dziedziny życia.
Mam nadzieję, że przeczytawszy całość, jednoznacznie zrozumiesz, na czym ono polega.
Książka ta przeznaczona jest dla tych, którzy chcą być uczniami, dla szukających prawdziwej bojaźni Bożej.
Adding product to your cart
Use left/right arrows to navigate the slideshow or swipe left/right if using a mobile device