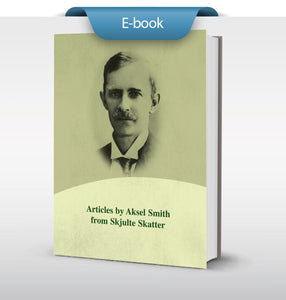 Articles by Aksel Smith (English) - eBook
Sale price

kr 250,00

Regular price
Aksel Smith was an invaluable support and co-worker for his brother, Johan O. Smith. For the magazine Skjulte Skatter, which he started with his brother in 1912, he was also a financial aid in his early years, when he, as a dentist, had a significantly better economy than his brother. Aksel Smith was taken home early to God, only 38 years old in 1919. In Skjulte Skatter, Johan O. Smith writes in January 1919:

What I feel and many with me feel about the passing of our dear, faithful brother cannot and should not be described here. Only let us say a few words about the end of his journey so that we can follow his faith. He could point out one at a time and give a loving and poignant exhortation, so we were all struck by wonder at how in-depth he knew each one and how clear his thoughts were so far into death. When his wife asked him: What do you want me to do next? he said, Take up the cross. One person asked: How can I best thank you for what you have been to me? He replied: By doing good over wherever needed. To one he said: Never depart from the temple of the Lord. To another: Pray forever. To a third: Whoever is faithful in the least is also faithful in the great, guard the lambs. Even little boys and little girls were taken to his camp. He had a word of exhortation and comfort to them all, and they always went away crying from him. What he learned and wrote and fought for, you will find in Skjulte Skatters hardcover from 1912 until now. It was through his hard work that we came to publish this little magazine. Although he was carrying a weak body all these years, however, he received grace from God to leave deep marks behind him. Much could be written about his life and work, but we need only mention these necessary things to illuminate the passing of this faithful Lord's servant so that one may follow his faith. Blessed be his memory and blessed be the fruits of his labours. They will continue, as he so often testified. One of the last things he testified to friends was that they should rely on the obedience of faith.

Today we know something about the fruits of Aksel Smith's life, we witness a vibrant congregation spread to many countries on every continent, with youth gaining light for their personal godly lives by reading his books and pieces in Skjulte Skatter. We thank God for placing such serving brothers in his living congregation! Let's follow their faith - so we come to the same life!
Published: 2018
Adding product to your cart
Use left/right arrows to navigate the slideshow or swipe left/right if using a mobile device